This morning I went to one of my favorite Red Sox Blogs, Firebrand of the American League to bask in the glory of the Red Sox World Series win. I'm sure that LOTS of other people had the same idea because when I got there, instead of being greeted with articles reviewing the home team's triumph,(which to be honest, probably would have said much the same thing that all the other articles I've read did,) I saw the message:

This is the consequence of not planning for the kind of deluge in traffic that comes with a big event, like when your website goes viral, your CEO appears on the Today Show or the promotion on your ecommerce site takes off way beyond your expectations.  What should be great new is not so great, (well OK, since the folks at Firebrand are all Red Sox fans, this world series is still pretty great.)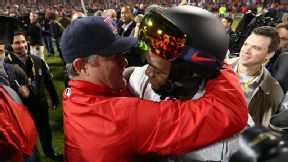 Yes, there was much celebration.  Yes, Big Papi won the MVP bedecked in his goggles and motorcycle helmet.  Yes, many people in Boston didn't get a lot of sleep last night. Yes, we'll have a parade of "duck boats".  Yes, we may lose Jacoby Ellsbury in the off season.  But just one more consequence of the big win last night was that I wasn't able to read some of the great content on the Firebrand blog.  I really wish Tesora could have helped them with that!
Now, off to Over The Monster where they've either done a better job planning their database capacity or weren't quite as popular to read one more article…